Automatic Backup Generator
No…the generator fuel costs would be much more expensive than buying power from the utility company since their cost to produce electricity is divided among thousands of customers. Our automatic generators are produced for use as backup to utility power specifically and should not be used as primary power.
The most logical way to determine your needs is to envision your home without power. Some outages may be short in duration, while others could last for days or weeks. What would your family miss during an outage? With some basic information, you can determine an estimated size by contacting us at (818) 787-1470.
The very best way to understand your options and work within your budget is to schedule a free in-home assessment consultation. During your consultation, you will receive personalized attention and a detailed evaluation you require to find a solution that works for your lifestyle.
Managed Whole House Coverage – You can get more coverage with less generator, up to whole house coverage, by pairing a smaller generator with our load shed devices.  This creates a managed power solution where non-essential circuits are shed when the generator approaches maximum capacity. They are cycled back on when essential circuits no longer require power, so all circuits receive power at different times.
Complete Whole House Coverage – Easily cover every circuit in your home by pairing one of our larger generator options and the proper transfer switch to provide full coverage. No circuit is ever left uncovered, so every appliance is available every minute.
We offer a no-pressure consultation to help figure out if getting a generator is right for you. First, we'll schedule an on-site assessment to gather information about your energy use and get an understanding of your home needs. That's what makes our quotes as accurate as possible. And finally, we use our in-house authorized technicians to install your generator system hassle-free.
An automatic backup generator is a back up electrical system that operates whether you are home or away. Within seconds of an outage, it automatically supplies power directly to your home's main electrical panel. After utility power returns, the generator shuts itself off and waits for the next outage. It operates on natural gas or liquid propane gas and sits outside just like a central air conditioning unit. See our "How It Works" video for more information.
We are a Premium PowerPro Generac dealer, and an authorized Kholer, Cummins, and Guardian Dealer.  We offer the following services.
Installation of Residential and Commercial Automatic Stand-By Generators
Natural Gas, Diesel, Propane Automatic Back-Up Generators
Maintenance & Service, Diagnostics & Repair, Monitoring
All Major Brands of Stand-By Generators
During a utility power outage, an automatic backup generator provides numerous advantages over a portable generator:
The American Red Cross recommends permanently installed backup generators as a safer way to provide backup power to a home than a portable generator.
With an automatic backup generator properly installed outside, your home is protected from deadly carbon monoxide poisoning that is a much greater risk with portable generators.
Running on the home's natural gas or LP fuel supply, it is less expensive to run than gasoline and does not need to be refilled.
They start automatically within seconds of a power outage, and eliminate the need to haul a portable generator outside or run extension cords throughout your home.
They provide protection 24/7, whether you're home or away, and they turn themselves off when utility power returns, so there is no need to monitor the unit during an outage.
For safety and warranty issues, we recommend working with an authorized dealer and licensed installer.  LT Generators holds Electrical (C10), Plumbing (C36), and General (B1) Contractor Licenses and is an authorized dealer for Generac (Premier), Kohler, Cummins, Champion & Briggs and Stratton.  LTG is fully bonded and insured beyond government requirements to ensure peace of mind for our clients.
We start the process by scheduling a day that works for you for your installation.  We communicate throughout the entire process so you completely understand what to expect from us, and we make sure you know the "what", "how", "when" & "whys" of your LT Generator's installation.
LT Generators' service area for residential and commercial generators is growing fast. We currently serve areas in Southern California, such as Malibu, Beverly Hills, Los Angeles, Palisades, Brentwood, Santa Monica, Encino, and other surrounding areas, like Santa Barbara, Ventura, San Diego, and Orange County.  We are the #1 Generac installer in Southern California!
All generators require periodic oil and filter changes to ensure maximum performance for years of reliable service.  We offer annual maintenance contracts for a worry-free ownership experience. We recommend you have your unit serviced every 6 months.
Important maintenance tips for your automatic home backup generator
LT Generators is committed to providing customers with unsurpassed product support. Contact us with any product maintenance, repair, or warranty questions you may have. We are factory trained and certified to work on Generac and other products, even if you didn't purchase from us.
Stand-by generators are equipped with overload protection. In the rare event of an overload, the generator's circuit breaker will trip, disconnecting the unit from the load. Simply correct the overload and reset the breaker in the generator. For more information, please consult your owner's manual or contact us.
LT Generators not only offers you installation of products that protect you during the next power outage, but financial security as well. By choosing from several flexible financing options through LT Generators, you can now prepare for the next power outage while keeping your lines of credit free for other needs.
Our program offers you flexible financing options with the ability to buy now and pay over time*. It's quick, safe and simple to apply for financing, and you will receive a response within minutes.
FREE UP CREDIT CARDS FOR OTHER PURCHASES WHEN YOU USE YOUR GENERAC CREDIT CARD
No money down
Covers generator and installation
Flexible credit promotions available to fit a variety of cardholder needs
Simple application process with fast credit decisions made within minutes
Why wait? Start your project today! APPLY HERE or contact LT Generators for more details on how to get started.
*Subject to credit approval. Minimum payments required.
---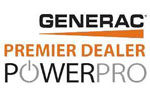 LT Generators is a Premier PowerPro Dealer.  Get Your Free Assessment Today.
Premier PowerPro is the highest level of distinction available to members of Generac's dealer network and open only to those that meet the most rigorous set of sales and customer service criteria.  As a PowerPro dealer, we consistently provide outstanding customer service, maintain local product and parts inventory, and receive high reviews from our customer base.  We are committed to providing an outstanding sales and service experience.